Not exactly a ghost town in the classic sense, but close to it. Much has been lost already as many of their "downtown" building have been demolished or fallen down. Many of the remaining will soon suffer the same fate.
Jennings is located on hwy 99 just south of the Cimmaron turnpike. It was either named for the developer George Jennings or for frontier lawyer turned outlaw Alphonzo "Al" Jennings, who donated forty acres for the 160-acre townsite. The town was founded in 1901 and was agricultural based until oil was discovered in 1904. The railroad arrived in 1903 and other lines where added when oil was discovered. At it's peak it had four hotels housing oil field workers.
The town prospered until the classic combination of oil bust and Great Depression saw it begin spiralling down in the 1930s. Two of the three railroad lines where abandoned in 1933-34. Reverting back to its agricultural roots, the town continues its slow decline today.
During the "oil boom".
This school is long gone.
As is this gargage.
Looks like they where building sidewalks.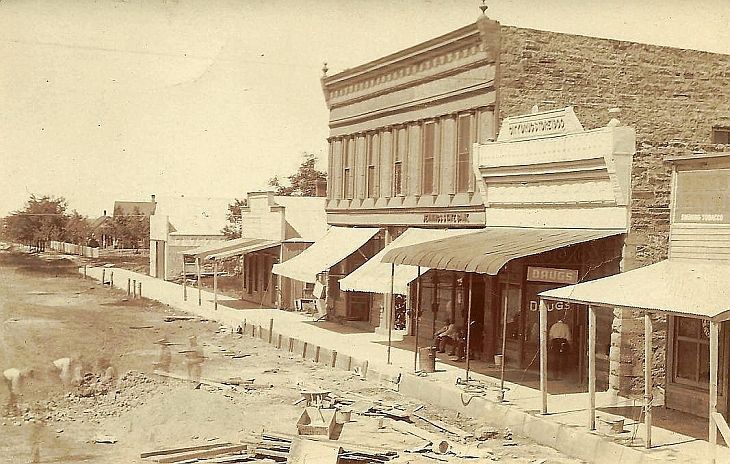 Somewhere around 1910.
Unknown hotel/boarding house on main street.
Many of the old historic structures are gone. I didn't have much time to spend in the town, so I didn't get to talk with anyone who may have had some local knowledge. I plan to go back and get inside some of the old building that still appear intact and see what further information I can dig up.
Todd and Bishop a local general merchandise store that operated for many years and played an important role in the towns early history.
This is an excerpt from the "History of Oklahoma, volume 5" date 1916
Quote:
Jasper Todd came to Oklahoma in May of 1894, where he farmed for two years, but due to ill health he had to seek other employment. Disposing of his assets he gathered $1,700.00 with which he came to Jennings and engaged in business with J.L. Bishop under the firm name of Todd & Bishop. The partners where successful in building up an excellent trade in general merchandise and the association continued for seven years when Jasper Todd died. Todd's brother in law, C.M. Foil was admitted to the firm and Todd and Foil continued for 2 more years until Mr. Todd bought out his parters interes and continued the business underhis own name until his death. He was considered a man of excellent business and executive abilities with an earnest desire to please his customers. His courteous and fair dealings secured the liberal patronage of which he was deserving. Upon his death, his widow and son continued the business. The present store, a stone structure 25 by 100 feet, two stories in height was erected in 1902 still carries a full line of first class general merchandise. The building is located on main street in the heart of the business district. Mr. Todd was vice president of the Jennings State Bank, but the greater part of his attention was devoted to the business which still stands as a monument to his industry and business ability.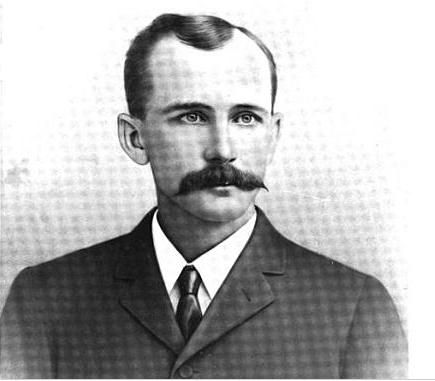 The building appears to be used as some type of auction or garage sale now, or at least it was on the day I was there. I definately want to get into the building, especially the upper area and see if anything of the original architecture remains. There where no identifying markings on the buildings to the right.
This is the G.S> Van Eman and Sons bldg, also a prominent businessman in the early days. He owned property in several towns, including Hallet, Pawnee, and Shamrock.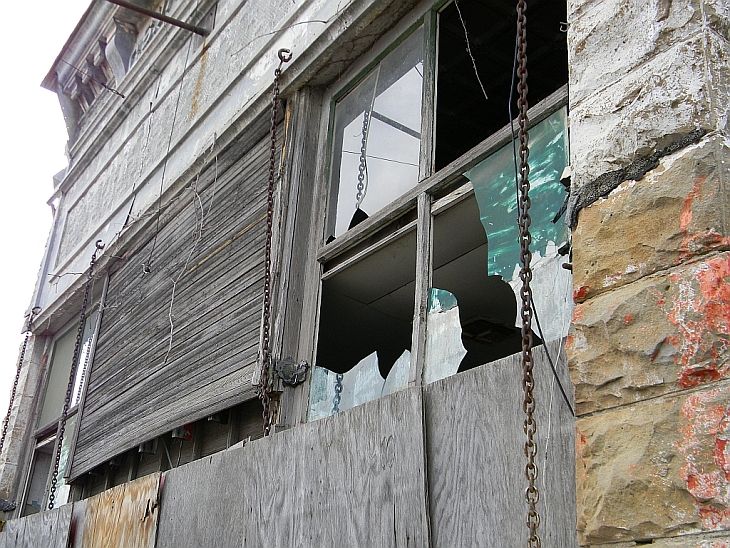 These are some documents from the store in 1903 and 1904. The letterhead is hard dated 1901, though he typed in 1903. Notice what the store sells changes on the letter heads.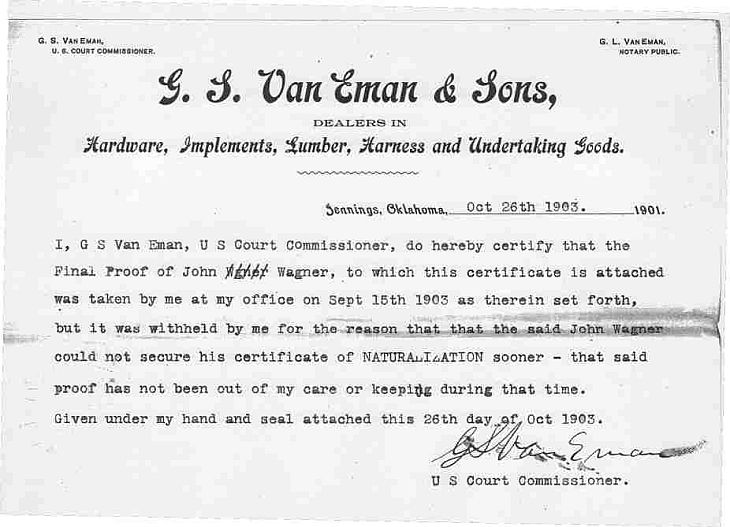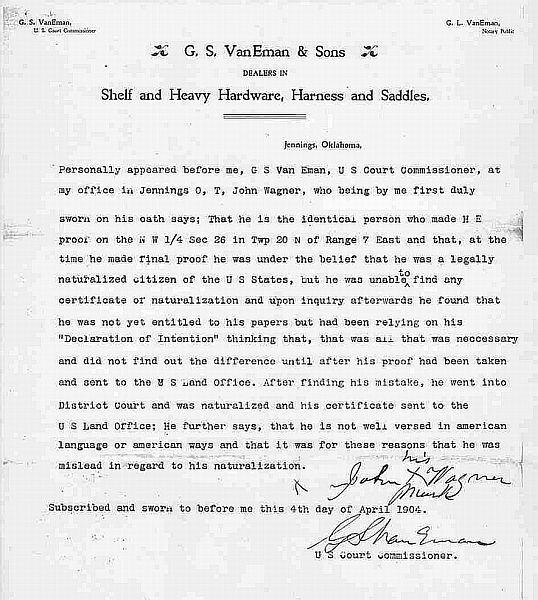 I have no clue what "Shelf and Heavy Hardware" were. I did find this blurb from the Manford newspaper in 1907 where it looks like he bought out the stock of a mercantile there. From this I'm assuming Heavy Hardware was plows and such.
Quote:
Another new 1907 business was the Mannford Hardware Co. Owners G. S. Van Eman and sons and W. D. Hinton, formerly in business in Jennings, announced purchase of the hardware and implement stock from the Mercantile. They were also carrying a stock of shelf and heavy hardware and Deere implements.
He also raised Poland China register swine, was at one time a judge, and a notary public. A regular jack of all trades. His house also burned down in 1910.
Quote:
Dec 22, 1910
The house and contents of Guy VANEMAN were completely destroyed Wednesday night by fire - Jennings News.
The News fails to mention the size of the house, but as Guy is tolerable portly, the burning of his contents must have created quite a blaze.
Quote:
Pawnee Paper, 1910
Judge VANEMAN, the sage of Jennings, is a county seat visitor today.
This building was to the left of the Van Eman store. This is all that remains. I could only find one bit of information about it. I thought the dog and I were going to have to tangle, but he backed down when I threw him a chicken bone. I always keep a couple in my pocket, it's saved me many times.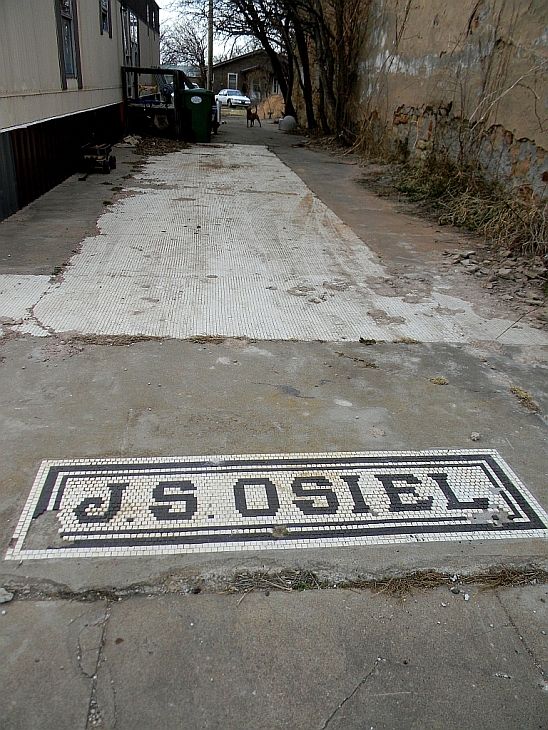 Quote:
Pawnee Chief, March 1910
Saturday evening while Jack OSIEL was absent from his store, and leaving one of his small children in charge, some light-fingered person touched him for about $20, which was in a small sack in the money drawer.
These buildings remnants where further left.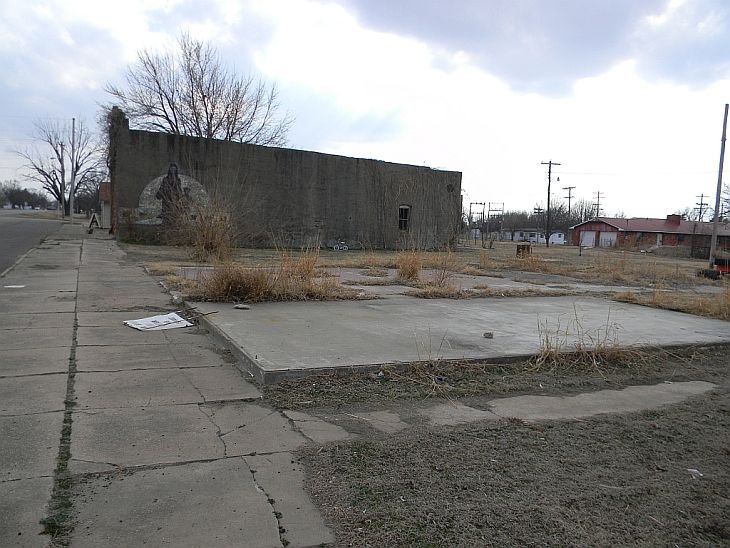 This building had no identifying markings. The old mural of the Pioneer Woman look like it had been done several years ago.
The First National Bank of Jennings. In 1904 it consolidated and became the Jennings State Bank. In 1911 the Jennings State Bank consolidated and became the Oklahoma State Bank of Jennings. In 1923 the Oklahoma State Bank failed. There was also a First State Bank of Jennings which failed in 1933. I have no idea as yet where it was located and may have in fact resided in this building. This is one I definately want to get into.
I found it interesting that they had their own telephone company as late at 1923. Many of the local phone companies had been snatched up by companies such as the Pioneer telephone company. I could find little history on it. There was work going on around it and it looked as if the building was in use.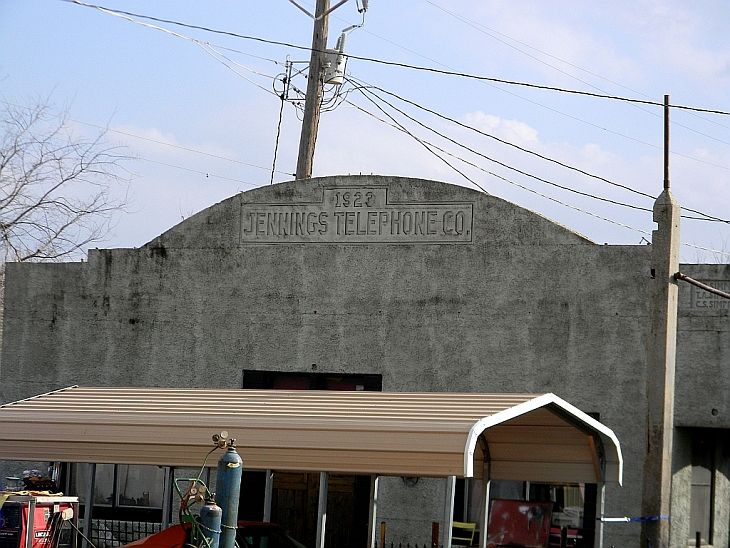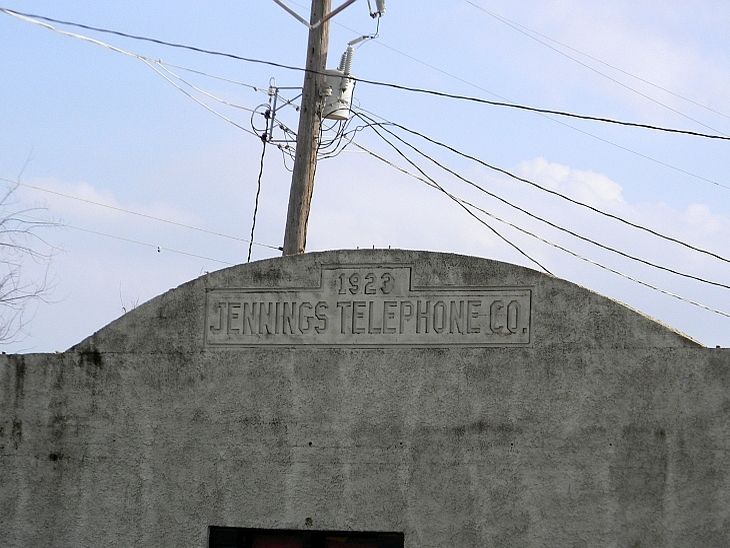 This document is from the Oklahoma Red Book dated 1912.
I was hoping the old Musselman Hotel still stood, but its now just vacant lots.
The old Jenning High School, buit in 1919, still stands, but doesn't appear to be in use, other than for storage. New metal buildins now house the school. This is another one I want to get inside.
As it was.
As it is.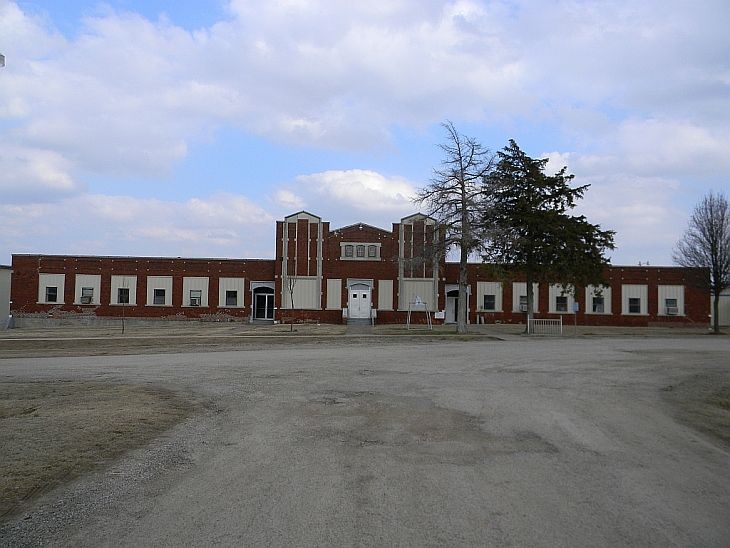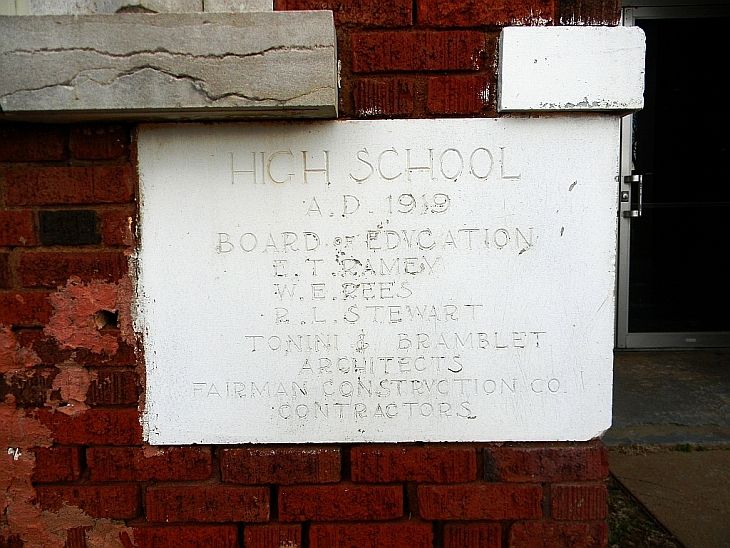 Some of the other buildings in town I've yet to identify.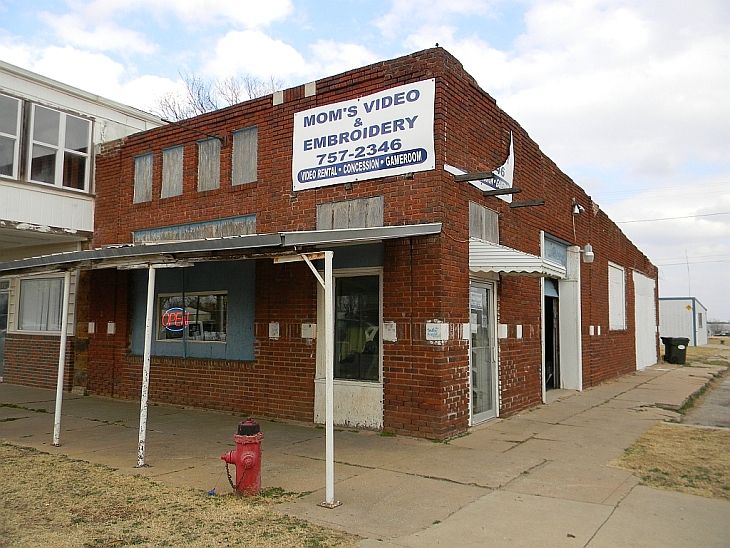 An old church, still in use.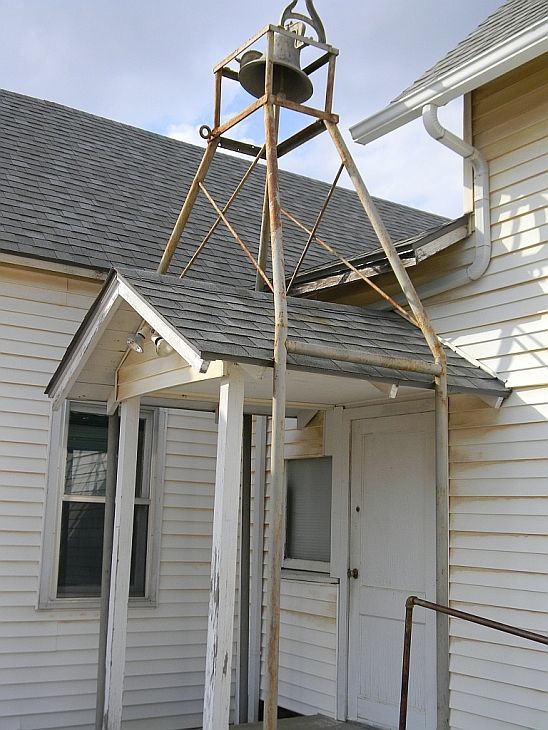 In this photo you can see the Todd & Bishop building, and the G.S. Van Eman building to its left, with the Osiel building to its left. The Musselman Hotel was the large building on the left in the distance. The bank is across the street from the Van Eman building. Most of the buildings on the right no longer exist.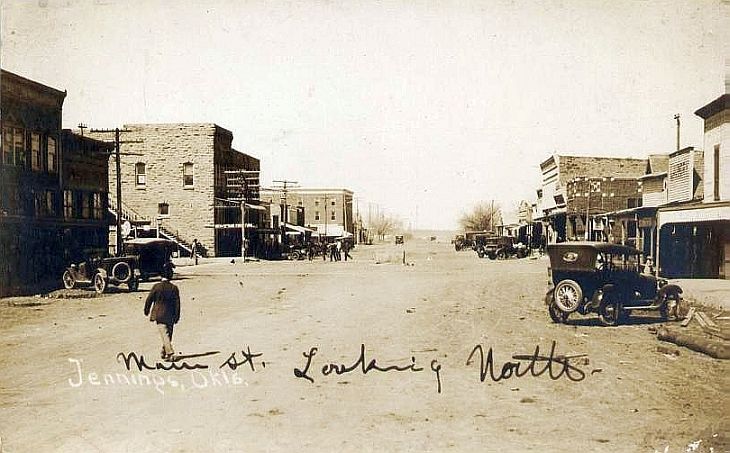 There was also a hardware store in town based on this blurb from a 1919 Pawnee newspaper, but I still haven't figured out which building it was in.
Quote:
Pawnee Paper, 1919
To Whom It May Concern:
W.A. MCELROY, of Jennings, Oklahoma, formerly connected with the Jennings Hardware Company, has severed all of his relations with the said company. The Jennings Hardware Company nor T.B. STICH will not be responsible for any debts incurred by W.A. MCELROY in the name of the Jennings Hardware Company, or in the name of T.B. STICH on or after this date.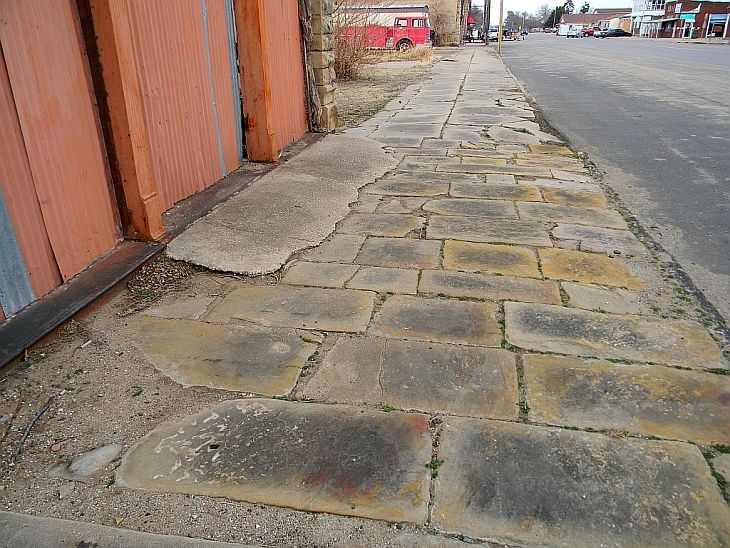 A last little note from the memoirs of a woman remniscing about a fair in 1904.
Quote:
That year Jennings had a Street Fair for two days and the merchants gave prizes for the best of everything brought in. I took two loaves of bread and got a fifty pound sack of flour given by the Todd and Bishop store. Also, for one glass of jelly I got $1.00 and for one can of blackberries I got a dozen photos of our baby Margery. I also got the premium on the baby at the baby show and another $1.00. So we went home happy and everyone voted the Fair a success.